Appademin
Appademin wants to help researchers at GU with technology development in general and app development in particular. The department for human computer interaction has extensive experience in designing and building various digital services, such as mobile applications and tools for data collection and data analysis. Appademin wants to make that competence available to others, to enable the use of technology among researchers at GU. We live in a world that is becoming increasingly digital, and with the help of Appademin, researchers without experience of developing digital services can use the power of digitalization.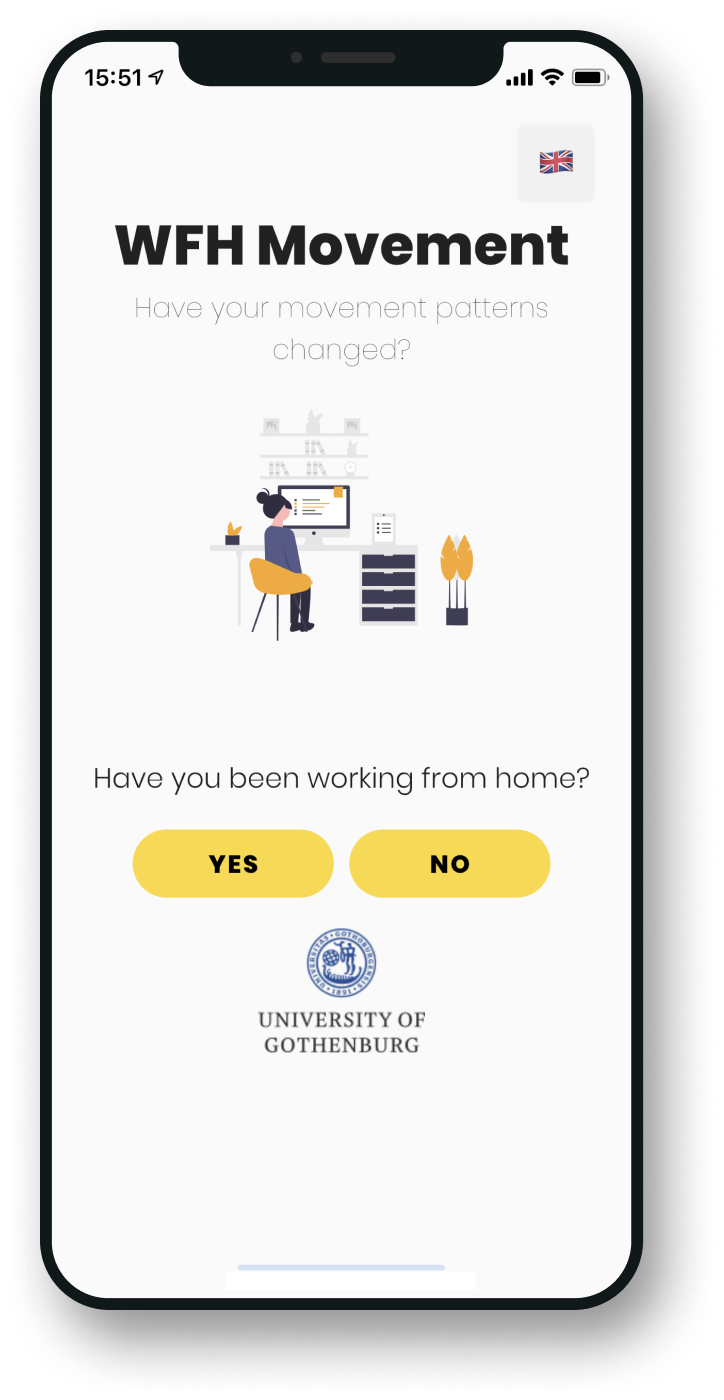 App utvecklad av Appademin, läs mer på /wfh-movement.
How does it work?
Book a meeting
The first meeting is free
Development
Using an agile process
Our process
Initial meeting
Contact us for an initial meeting on how we can help you! We can partly assist with advice on technical development or what digital solutions and opportunities exist for a research project or activity. In the initial meeting, we discuss whether you want to proceed with a feasibility study and perhaps start planning for development.
An initial meeting is free.
Prestudy
Sometimes you want to get an idea of ​​what would be possible. During pre-study work, we spend the first 16 hours working with you to produce a very first sketch of a digital solution. For example, it could be a sketch of a mobile application, or a first version of a website.
Development
After a first meeting, and a possible feasibility study, we can help develop the digital solution that is needed. We always work agile, and always with short iterations. This means that you will be involved by continuously having insight into what is coming out, in order to be able to participate and steer so that it will be as you intended. Although we are also researchers, we are not domain experts. But it's you. It is therefore important that you yourself are active during the development.
Launch
"What happens when you're done?" With digital tools, you usually do not finish. The digital product is a living product that needs maintenance. The development does not really stop, but research projects are often of such a nature that a digital tool is developed before a study starts. So what happens when the study starts? Then we can help ensure that the data comes in properly, that the tool does not stop working. But we can also help process the data so that it can be used for analysis.
Funding application
If you have a project idea and need someone who can build something, we can also be involved as a project partner. Having a partner with research experience benefits the whole project, as there is rarely a straight path between idea and system - in the same way that it is seldom a straight path research idea and completed study.
Who are we?
The team behind appademin
We are the Department of Human-Computer Interaction at the Department of Applied IT, University of Gothenburg. We have extensive experience in designing, building, and studying technology and its use. The purpose of the department is to contribute to a sustainable and wonderful way of living with technology. In a world where IT is constantly present, it is important to understand this presence and how it affects us.

Among other things, we have worked with the applications Work From Home Movement and Study From Home Movement, to investigate the effects of restrictions in connection with the pandemic on our physical movement.
Background
Researchers from different disciplines often turn to us with ideas about different digital elements in their research projects. Driven by the development of society and the central role of the app in much of our everyday IT use, it has become increasingly common for researchers to want to include an app in their research in some way. We get questions from researchers who want help building an app as part of a project, but also questions about whether there are already ready-made solutions to use instead. Without knowledge of how to actually design, code and implement digital solutions, it is very difficult to know how complex or simple it is to build different things. The seemingly simple question "how much is an app?" can therefore be very complex and require a whole host of follow-up questions. Without knowing more about it, however, it is almost impossible to even know what the follow-up questions are - follow-up questions that are also the ones that can answer whether it is possible to build what you want.
Developing apps in a research context does not have to be the same as building an app by following specifications. When developing an app, a number of trade-offs are made along the way. These sometimes have an impact on the research where the app will be used. It is therefore important that the design process takes place in consultation with the researchers who have insight into the project. To know when this occurs, however, experience of working with that type of development is required. This is something we have extensive experience of at the division of human-computer interaction.
We therefore offer our expertise in app development and other related issues to be a support for researchers from other disciplines to be able to take advantage of opportunities offered by being able to build new applications and services.